Superhero Spotlight: Connie Thompson
DUG Kentucky Meetup Leader
Connie Thompson


Tell us about your day job, what D365 product(s) you use, and something interesting about your company.
My current role is Global Director, IT Data, Analytics and Reporting for Alltech Inc. This is my 20th year with Alltech and I am located at the Corporate Headquarters in Nicholasville, Kentucky. In this role, I own data strategy, data governance and security, and the people and systems that create the analytics and reporting which Alltech uses daily to make informed and insightful business decisions. A significant responsibility is understanding our business strategies and initiatives and translating that to my team.
Alltech uses Dynamics 365 for Finance & Supply Chain Management, PowerBI, PowerApps and, to a smaller degree, Dynamics 365 CRM. We began our Dynamics journey in 2009 with AX4 and we have migrated through every version since. Most of our nearly 100 legal entities, with locations around the globe, are using AX2012 R3. By the end of 2023, three of our largest businesses along with eleven of our smaller entities will be live on D365. We are on an exciting, stressful, and sometimes overwhelming journey!
At Alltech, we help farmers feed the world, raise healthy plants and animals, and protect the environment through nutrition and scientific innovation. Our Planet of Plenty mission guides all our business divisions as we collaborate with farmers, producers, agri-food sector businesses, scientists, educators, and others to transform the future of our planet with sustainable farming and nutrition.
When and why did you first get involved with the D365/F&O/AX community?
While experiencing several Microsoft Convergence and community Summit events, I came to appreciate the networking and learning opportunities within the community.   Microsoft supported these events by providing experts to present on their product roadmap and educate the community on the latest features. I found a great deal of value in speaking one-on-one with Microsoft Dynamics product leaders and technical experts.  I also discovered that my peer users were quite knowledgeable in a variety of areas and happy to share their experiences.
At the community Summit event in October 2014, I met several other users from Kentucky who were interested in forming a user group.  Led by Kelly (Kane) Gustafson, we held our inaugural meeting in December 2014 in Louisville.  I volunteered as VP of Communications for several years.
When Kelly stepped down as Chapter Chair in January 2019, I was asked to take on that role and I've enjoyed leading the group ever since. Kelly has remained an active group leader and Irene Clements joined the leadership team later in 2019.
There is a palpable, positive energy when our group meets. We consistently have 25 or more in attendance.  We share experiences and learn from each other as well as from the excellent presenters participating in our program. Many friendships have been forged over the years based on our common interests centered around the Dynamics applications.
What has been the biggest takeaway from your community experience?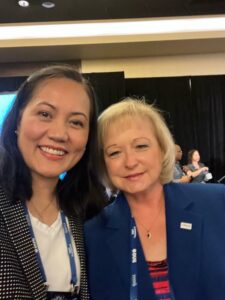 If your business is facing a challenge, someone in this community has faced the same or a similar challenge, and they have valuable information and experience to help you overcome it. All you need to do is ask for help! While you're harvesting those nuggets of wisdom, you will also be building friendships. My community friendships mean the world to me.
What do you believe has made you successful in your career?
Over my career, I have been given many opportunities to learn and grow. I also have had the benefit of working with leaders who served as very good examples.  My natural disposition is cautious and reserved, so I have had to get outside my comfort zone to explore many of the opportunities presented. Having courage and faith in your abilities are key components to career success.
As an empathetic leader, I actively listen to and seek out differing viewpoints. Not only do you learn a lot, but you also build trust which is critical to successful relationships.
International business travel opened this Kentucky girl's eyes to different cultures and experiences. While I discovered what was different, I also discovered how we are much the same, no matter where in the world we live. Travel is an excellent educator, and it makes the world a much smaller place.

Tell us about life outside of work such as family, hobbies, etc.!
My husband and I live on a small farm in rural Kentucky where there are more cows than people, and that suits us just fine! It is our quiet, peaceful sanctuary where we can unplug and unwind. We have one grandchild who is the light of our lives. He is sweet, funny, full of energy, and always learning. Because of his considerable passion, I know more about monster trucks and dinosaurs than I ever thought possible! Being his NiNi brings me more joy than words can say.
What is one goal you hope to accomplish? 
There are several places on my travel bucket list that I hope to visit…Italy and Alaska for starters. When I retire, I plan to dig into my family genealogy and see what other nuts I can find in our family tree! 😊